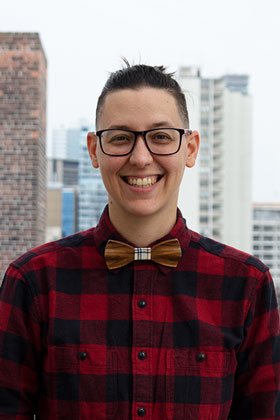 Christelle Thibault
Director of Teacher Recruitment
Christelle is a settler of French and Irish ancestry who was born and raised in Québec before moving to Ontario in early adulthood.
Prior to joining Teach For Canada, Christelle worked for 17 years in the education and non-profit sectors as a peer support worker, intercultural youth group leader, trainer/facilitator, health promoter, and national program manager. All of these experiences involved working closely with young people and adults to support them in their learning, growth, health and well-being.
Christelle holds a Master of Arts in Intercultural Service, Leadership & Management, a Bachelor of Education in Adult Education, and is currently studying at the Gestalt Institute of Toronto. Christelle deeply values lifelong learning, reflective practice, social justice, cultural humility, and opportunities to creatively connect with one another.
Outside of work, Christelle enjoys going to 2SLGBTQ community events, spending time with friends and chosen family, reading dystopian novels, drinking tea, hiking, taking photographs, and soaking in the beauty of the mountains.