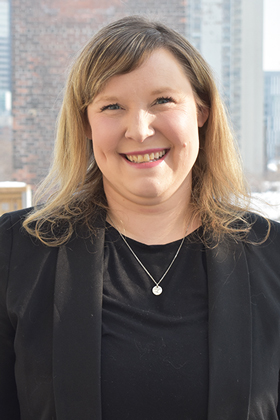 Lisa Henderson
Teacher Selection Coordinator
Lisa has worked in the not-for-profit sector for over 9 years. She holds a Bachelor of Arts degree from Queen's University and a Social Service Worker Diploma from Sheridan College. Lisa is a registered member of the Ontario College of Social Workers and Social Service Workers and in 2019, Lisa became a certified Parent Educator from Attachment Parenting International.
Lisa has worked exclusively in community-based organizations, supporting young children, their families and local communities. Lisa has extensive experience in providing family education programs and facilitating Professional Development opportunities to fellow Educators in the Early Years Sector. Most recently, Lisa worked as the Toronto Program & Engagement Coordinator, at Roots of Empathy, where she had the pleasure of supporting the delivery of programs in classrooms throughout Toronto.
Lisa believes that children and youth are not a part of our future, but a 100% of it and has a great passion for supporting equal access to quality education for all. Lisa is honored to be a part of the Teach for Canada Team and is looking forward to supporting teachers through the selection process and to seeing them make positive contributions to education in the North.
Lisa lives in the City of Toronto and is most happy spending time with her partner, Andrew, and young daughter, Hannah. She is a sports enthusiast, has a love of reading and can most often be found with a strong cup of coffee in her hand!