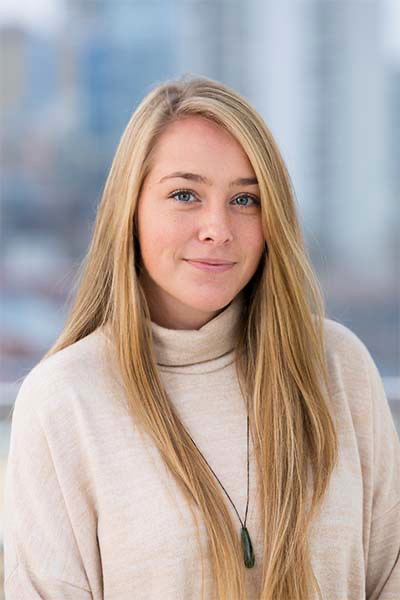 Staff
Maddy Pilon
Teacher Recruitment Manager
Maddy is of mixed settler/Métis ancestry with connections to Georgian Bay Métis, red river Métis, and the Highland Waters Métis Council. Her family is from the both the Georgian Bay and Trenton Ontario, and she currently lives in Prince Edward County on the land of the Anishnaabeg, Wendat, and Haudenosaunee Peoples and adjacent to the Kanien'keha:ka (Mohawk) community of Tyendinaga.
Maddy received a bachelor of fine arts at Ryerson University in film studies, where she spent time producing and directing documentary films focused on uplifting voices of Indigenous youth. Her time spent on Indigenous youth empowerment and life promotion lead her to presenting and serving on the international planning committee for the World Indigenous Suicide Prevention Conference. When Maddy was not making films, she ran a student group which organized ethical and sustainable construction-based volunteer trips in India, Nepal, South Africa, and Laos. Maddy is also a graduate of the Canada Roots Exchange Indigenous Youth Policy School, and was a member of the advisory circle for Justice Canada's promotion of the United Nations Declaration on the Rights of Indigenous Peoples.
Maddy loves building community through sports, recreation and spending time on the land. She has used her love of outdoor activity and community to organize many successful fundraisers for Indigenous run organizations, including an annual bike ride for residential school victims and survivors on September 30th. She also enjoys travel, visual art, and spending time with family and friends.
Maddy hopes for a future of Indigenous education that includes access to a complete K-12 education for every First Nations, Inuit, and Métis student in their own community. She also hopes for a future with appropriate and high quality educators and education, and for Indigenous students to see post-secondary education as a realistic option.