Sarah Diamond teaches Grade 3 in Eabametoong First Nation as a Teach For Canada teacher. She completed a BSc in Geography and a BEd at Queen's University in Kingston, ON. Her teaching placements included inner-city schools in Kingston and Toronto and alternative education programs in Haida Gwaii, BC and Resolute Bay, Nunavut. Prior to teaching in Eabametoong, she taught for two years in a remote village in Bhutan.
The Vice Principal laughed when the students kindly greeted us on our first walk of the community. He informed us of how he had rocks pelted at him the first day he arrived. Score! We've got this, I thought.
An hour later a kid ran up behind me, threw a rock at my backpack and politely yelled a list of profanities. I asked the student what grade he was in and informed my friend of her soon-to-be student. We had coffee at the local "White Clay Coffee Shop" and later on found the same kid pounding our front windows and peeing on our steps. Fortunately he didn't last the night or we may have had a messy front yard. The situation was deeply saddening, and I was trying not to get too frustrated as my housemate pounded her forehead against the kitchen table, questioning our decision to move north.
Two weeks after our initiation, I walked into my grade 3 class to a swarm of students around our circular breakfast table.
"Ever gangster you look, Ms. Sarah!" piped up one boy in the back.
I glanced down at my striped stockings, blue pocket dress, and yellow long-sleeved shirt.
I gave him a thumbs-up. "You got it," I replied.
I joined the mixture of hustle and bustle at the table as we recalled events from the previous evening.
"Toby escaaaaaped," cried out one girl.
"Ever cheap insect!" exploded another.
"I think Toby's pretty happy in his natural habitat outside the classroom, no?" I replied.
My students shrugged. We carried on with circle games, literacy, and our standard discussion of whether Taylor Swift or Avicii was a better wake-up song on a Monday morning. We stretched. We danced. We eventually hammered out a couple sentences of literacy.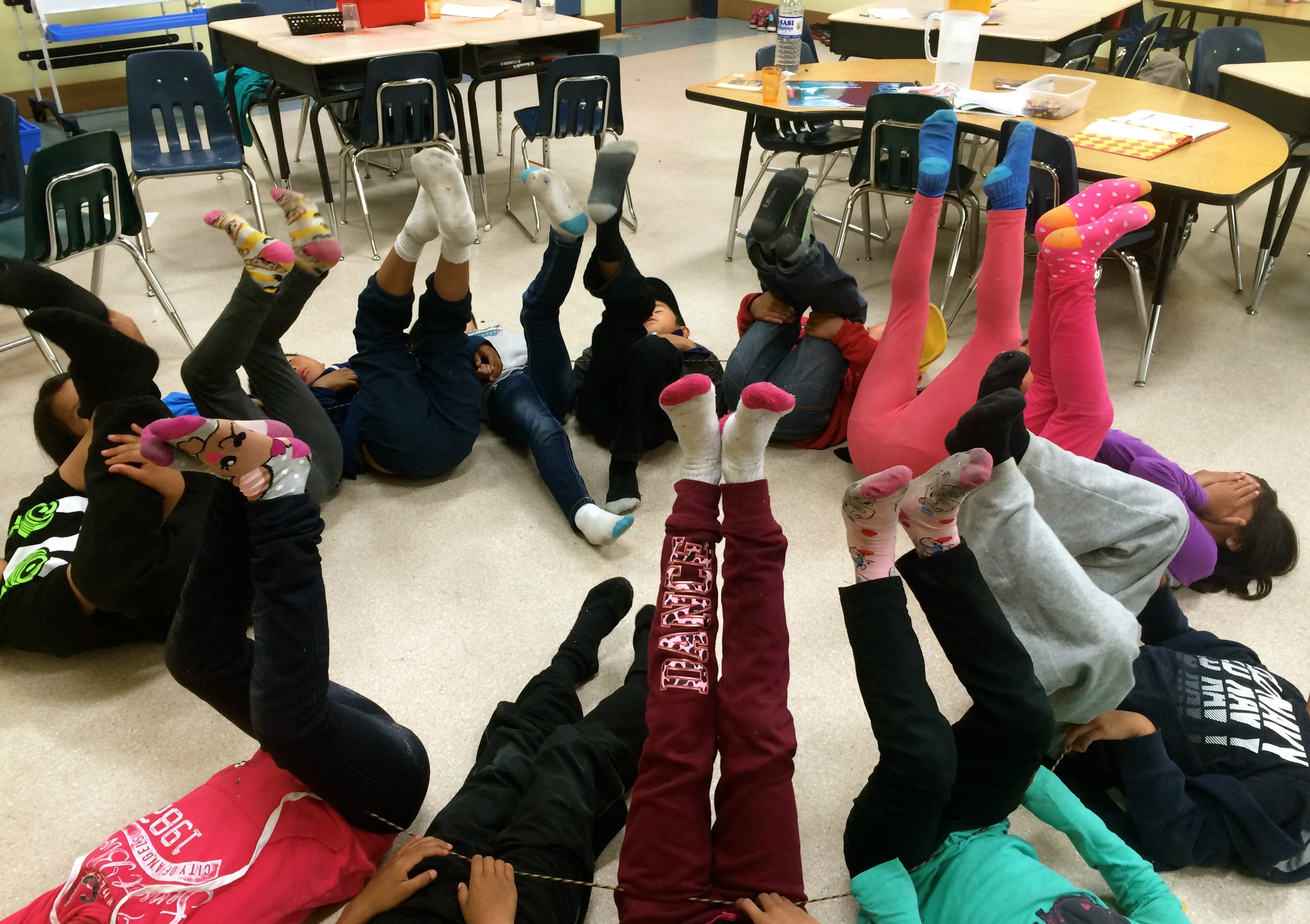 In October, our class was growing larger by the day, and outdoor education became the root of our classroom learning. Together we learned that 99% of what could be taught inside could be rocked outside in the bush. Our spirits shone through this experiential learning. We connected ourselves with the land but most of all with each other, through hiking, blueberry picking, snowshoeing and partridge hunting.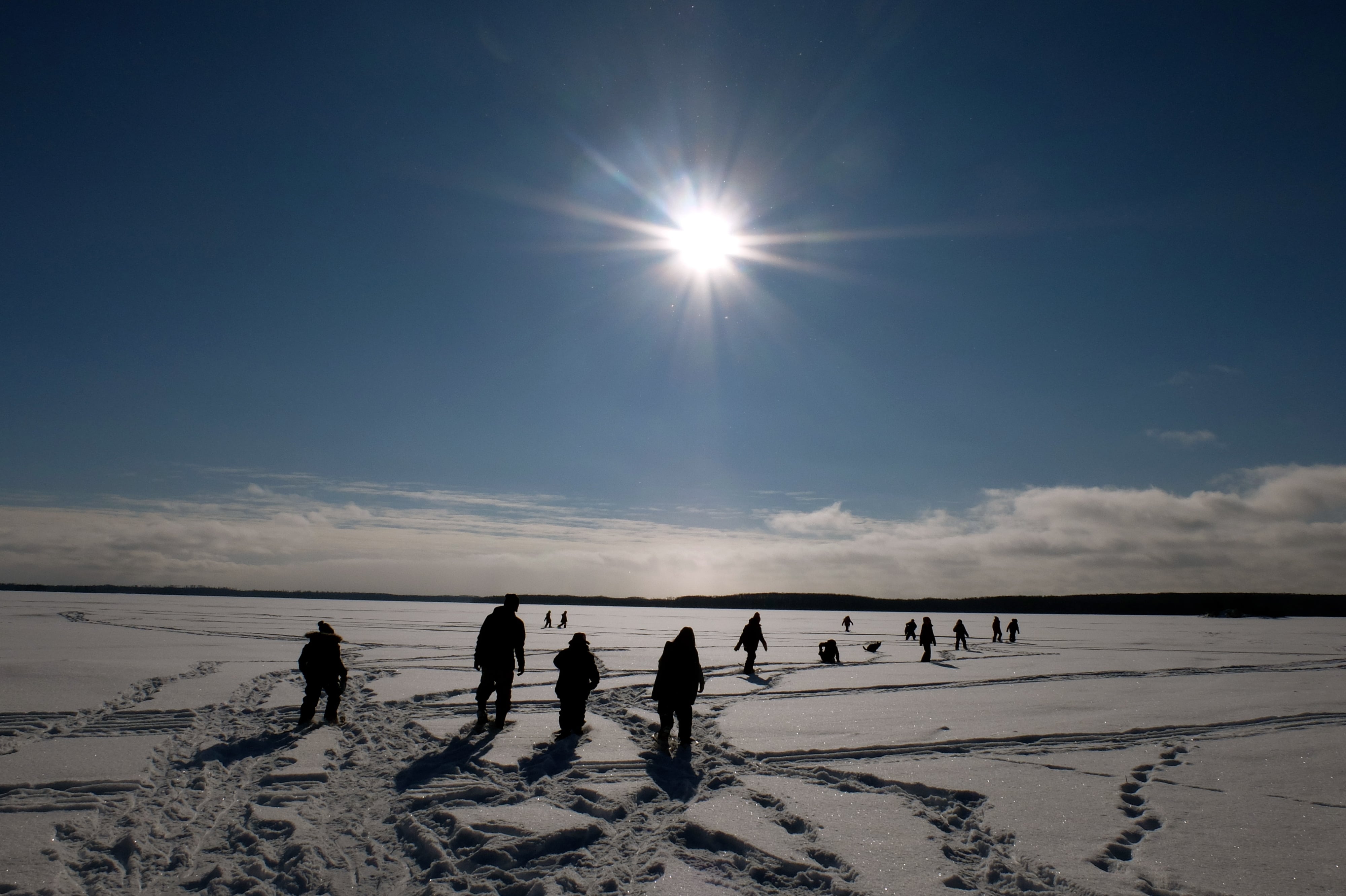 The freezing temperatures in January began to keep us inside. This is not the students' norm – they are more content to peruse abandoned houses, slide down cardboard on the infamous "mount extreme," or jump from roof-to-roof in efforts to determine who could outlast the other. Through playing games of Leapfrog to learn math skills and connecting with elders to further nurture our compassion for each other, together we made it work.
One month later, our class size doubled to 24. Our breakfast table turned into a work centre. Our dynamic went from arguing about Ms. Swift to learning how to truly work together in a cooperative setting. We learned how to build each other up as a team and feel confident about ourselves. We realized that a lack of empathy is at the root of all conflicts. We began to understand that mistakes help our brains grow, but if our brains grow too much we risk "having them pop out of our eyeballs." Most of all, we learned how to love and show our love. And we decided that this was perhaps the most important factor in keeping us coming to school.
This deeply rooted energy and evolving love that we had for one another strengthened our bonds during difficult times. When students' emotions got the better of their minds and violent breakdowns became frequent, we learned as a class how to provide space for each other. Most of all, we learned how to forgive in order to move forward.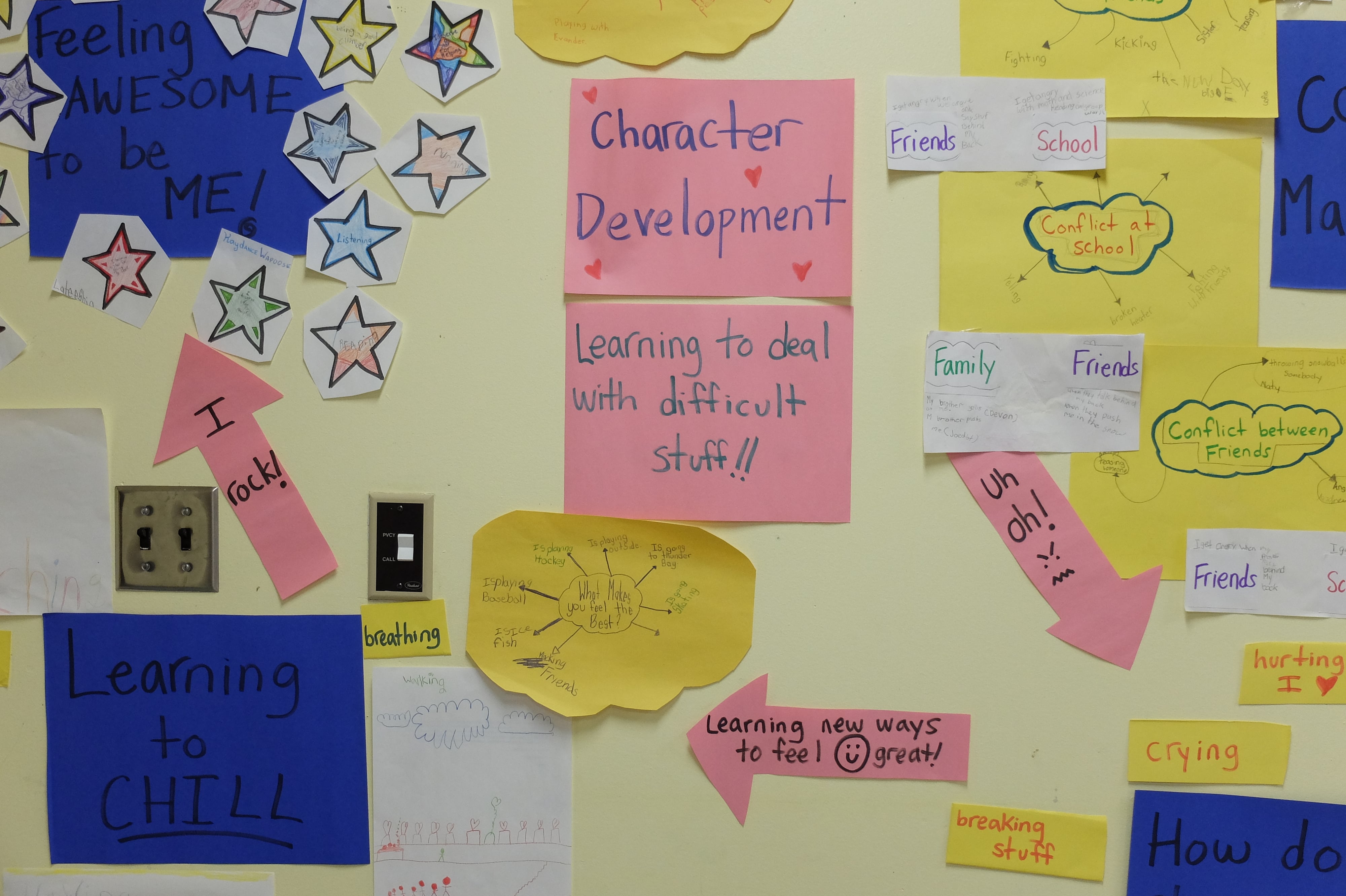 My move north after two years teaching in a remote Himalayan village was not the smoothest transition. However, my students have empowered me more during our ever-evolving, often-unstable situation than I could have anticipated upon arrival. I am continually learning how to cater effectively to their Rubik's cube of emotional and learning needs.
I've learned that Eabametoong is a community with a mixture of suffering and a deeply rooted hunger for healing. Amidst the obstacles are souls eager to share their knowledge of the land and Ojibway culture and young minds craving to be challenged and nurtured.
And so I sit here at our kitchen table, gazing out at the gentle young faces eagerly pressed against our window- the exact spot that had been our initiation only seven months prior. I stare out at the trust and relationships that have been molded over the last year. It's from each other that we now draw hope and courage to continue. We are inevitably linked by shared laughter and an intense passion to learn from one another.
So let us raise our thumbs and laugh together grade 3, because we've got this.