Brenton Inglis is currently teaching grade 2 in Deer Lake with his partner and fellow teacher, Hailey. Deer Lake is a First Nations community with roughly 1,000 residents located in northwestern Ontario near the Manitoba border. The people there are very close-knit, community oriented and share a passion for the land and related activities, including fishing, hunting, boating, snowmobiling, trapping and hockey.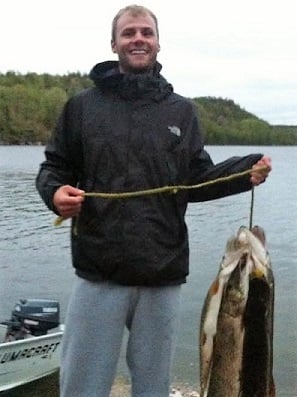 "Why the North?"
My decision to go north was both difficult and easy. It was extremely difficult to leave my friends and family, especially my younger brothers, even if I'd done so once before when I lived and taught in Korea. I figured remaining in Canada would allow me to go home for a 3 months out of the year, which made the time away seem less daunting. However, in doing so I would be passing up on an opportunity to teach at a prestigious private school in York Region, which no doubt would have been a safe, convenient and great way to start my career as an educator. After weighing all my options, I concluded that teaching in a remote First Nations community would be challenging and provide an opportunity for personal and professional growth.
"What's it like?"
The land here is quite remarkable and it serves as a big part of daily life and culture. Having lived in the city for most of my life, I hadn't been exposed to fishing or hunting; my outdoor activities were limited to running, hockey, and water sports. Autumn in Deer Lake is beautiful. I spent a lot of time blueberry picking, fishing, hiking and running with canine compadres in tow. I was amazed the first time I saw the northern lights and made a habit of watching them whenever they were out, which was quite often. I've sometimes been lucky enough to hear wolves in the distance when I've woken up early. Taking in the sights and sounds of nature is a pastime in and of itself.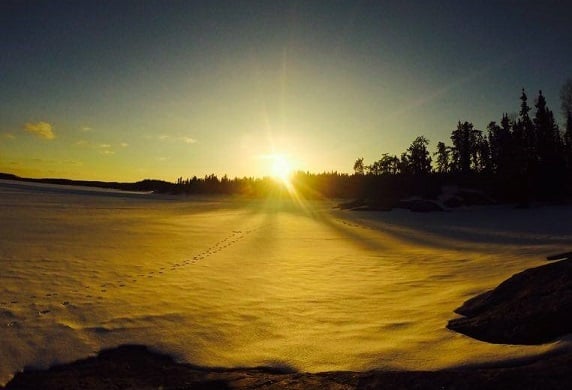 During the winter months, ice fishing and snowmobiling were added to the list of weekly activities. After the Christmas break, the hockey season started; I spent a lot of time on the lake ice and later, the local indoor rink, which requires very cold temperatures to freeze in the absence of artificial means. I played hockey frequently with community members and was busy coaching the bantam boys hockey team in preparation for an annual tournament that hosts Aboriginal youth living in remote communities. When I'm not working, at the rink or ice fishing, Hailey and I spend our time watching movies in our apartment, hanging out with friends, and exploring the outdoors on walks and long hikes.
The Job
Our school is conveniently located a short walk away from the "teacherage" (where all non-local teachers live). The school is bordered by forest and a lake. The building has a unique architectural design with solar panels on its roof. Inside there are 15 classrooms, a staffroom, a gymnasium and a library. One of the classrooms doubles as a science lab/music room and another has been converted into a fitness room.
Most teachers dream of having the kind of technology we have at the school: SMART boards in the classrooms, a computer lab, Ipads and Chromebooks.
The class sizes range from 15 to 30 students and each teacher is paired with a TA. Hailey and I both have 18 students and we benefit from having each other as grade partners. The school also has ample resources, which help with planning and teaching. As is the case in most schools, there are a variety of students who have diverse needs. Having a special education teacher and a TA helps to accommodate one-on-one, small group work, and other activities that cater to the individual needs of these students, while allowing me to teach the lesson(s) of the day. My students benefit greatly from hands-on activities and opportunities to use technology in the classroom.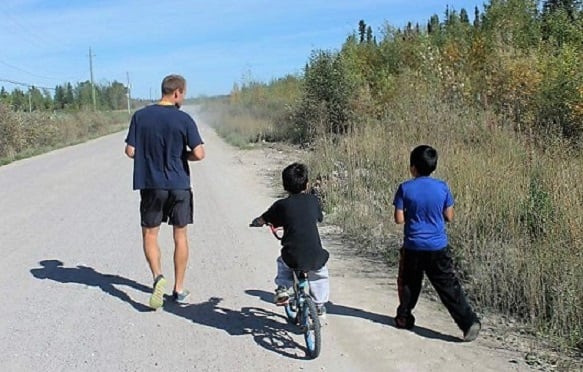 One of the unique things about working here is that the staff are local community members and neighbours, which helps to create a cohesive group. while establishing and maintaining relationships outside of school. I consider my job to be relatively similar to teaching "down south" with the added benefits of physical and technological resources some schools might lack. Another noteworthy difference is how the size of the community impacts the relationship you have with students. It is not uncommon for students to knock on your door to say hi (they know where you live, and they know you're in there), join you on walks, ask you to play at the park or invite you to join in on a game of tag. We see our students frequently outside of school hours – be it at the grocery store, the rink or out on the water/ice. The time spent with the students outside the classroom contributes to deepening relationships and respect in the classroom.
"What are some of the highs and lows?"
The Highs
I had the privilege of coaching the bantam boys hockey team (grade 8 and 9). The "Little Bands Native Hockey Tournament" gives Aboriginal youth living on reserves a chance to experience a week of life in the city, while competing against other teams. The tournament was a lot of fun and gave the teachers who helped a chance to interact with the students outside of school doing something that they love. The boys on the team will soon make the transition to High School which can be intimidating and challenging, so this tournament also helps students acclimate to a town that is similar to one they might be moving to. Coaching the team was very fulfilling and stands out as the highlight of my time here. I hope the year was as memorable for the players as it was for me.
My new found appreciation for nature and interest in outdoor activities has also been a very positive part of my time here. I love to fish and the time spent on the lake and ice lends itself to making new friends in the community. I am excited to use some of the skills and knowledge gained here on camping trips with my brothers this summer.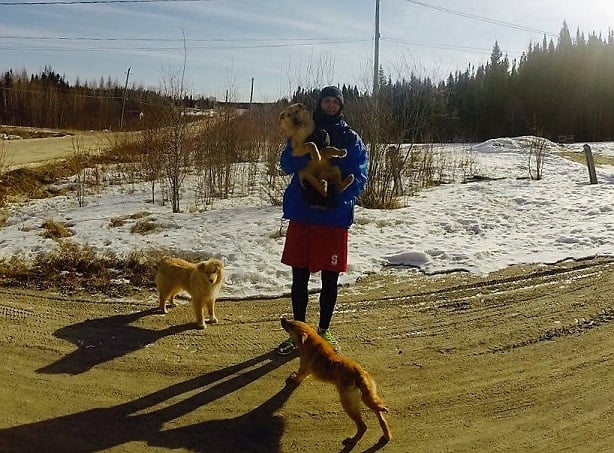 The Lows
The winter is long and dark. For one full month you enter and exit school in the dark and it can be difficult to adjust. On the other hand, the darkness gives you the chance to stay well rested and lends itself to spending more time fine tuning lesson plans, organizing extra-curricular activities, and enjoying time outside of school in different ways. You have to make your own fun and try your best to remain active, despite there being less activities to occupy your time due to the frigidity and darkness of the northern winter.
Feelings of isolation, culture shock and homesickness are to be expected. I've tried to look at the challenges that these feelings present as opportunities for self-exploration and growth. Admittedly this is easier said than done but approaching these challenges with a similar attitude goes a long way.
Advice
Many people try to express and impose their own opinions and stories, advising you on what life on "The Rez" is like. Whether this is positive, negative or inaccurate is irrelevant in my opinion. People are not shy to express their views and opinions and this can hinder your own ability to remain objective and free of preconceived notions before your arrival. Approaching this opportunity with an open-mind and realistic expectations will allow you to experience things for yourself, while serving to form your feelings and views about the community and its members.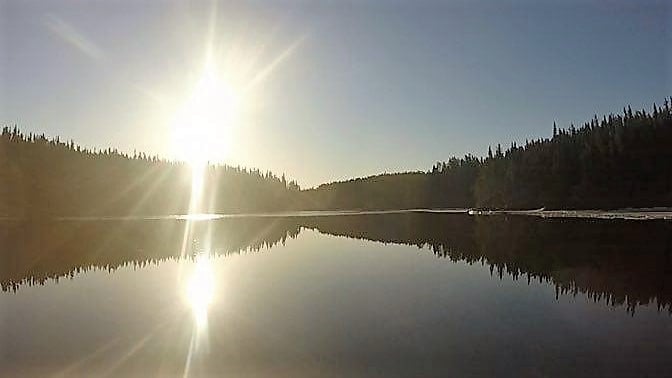 It is imperative that teachers who decide to teach in a remote First Nations community know the history of residential schools and their residual effects. Having this background knowledge will help facilitate the non-judgmental and accepting attitude that is necessary to make your time in the north both as memorable and rewarding as it can be.
Although still in Canada, living in a remote First Nations community is a lot like visiting another country; there are cultural norms, customs and beliefs that may be altogether different to those you're used to. Again, striving to be objective and open to new things will benefit you and more importantly, your community.