Dinah Meeseetawageesic is a Teacher Assistant in Eabametoong First Nation. She works at John C. Yesno Education Centre, and is an active participant in Teach For Canada's TA Program. 
About the Program
The Teacher/Education Assistant Professional Development Program (TA Program) is currently open to teacher assistants, teacher escorts, education assistants, and paraprofessionals in the First Nations that Teach For Canada serves in Ontario.
The TA Program engages local participants with opportunities to support their growth, professional skills, build community capacity, and increase student success.
Teach For Canada's TA Program has three focuses: teaching strategies, the classroom environment, and individual student needs. It is presently being offered virtually, and provides:
• Personalized skills development based on individual goals
• Monthly coaching with a certified experienced northern educator
• Professional development workshops tailored to the northern TA context
• Information on pathways to becoming certified teachers or TAs
• Work-related resources and support, such as mental health counselling
---
Dinah has demonstrated excellence this school year, while working to assist Teach For Canada alumnus Erik Streufert.  We connected with her to ask her about her experience taking part in the Program, and to hear about what she likes the most about being a TA in Eabametoong. 
"My favorite part of being a TA is getting to see the kids every morning with smiles on their faces. I just love working with them."
Dinah has attended each webinar that has been offered in Teach For Canada's TA Program. She says that they teach her approaches and strategies to connect with her students that she wouldn't have considered before participating.
"A piece of advice that I would give to TAs, or to anyone working with students, is that when you are talking to a child, do not talk or stand over them. Instead, get to their level, and talk to them softly."
Dinah learned about this approach to communication in Teach For Canada's webinar on behaviour–the first TA session of this school year. "We talked about the importance of speaking to students and getting down on their level. I've enjoyed learning new things, especially strategies that I can apply when working with my students."
Aside from the program, Dinah has been receiving in-classroom support from the teacher she works with, Erik Streufert. 
Erik is an alumnus who joined Teach For Canada's inaugural Cohort in 2015. He accepted a position teaching at John C. Yesno Education Centre in Eabametoong First Nation, and he has been there ever since. Erik is an experienced outdoor educator who currently teaches Grade 1, and Special Education.
"Erik and I work together in his classroom. He supports my work with our pupil who has autism. He has supported me by telling me what I should expect from them, and by teaching me approaches to take when working with them."  She says that working with this student has been her most proud accomplishment, because they inspire her to learn something new every day. 
Dinah takes great pride in watching her students grow throughout the year. Sometimes they get frustrated while getting dressed to go outside, however, they've been improving and are now able to do it by themselves. Even with small everyday tasks like that, you can see the small improvements over time, and it is just great to see them achieve new things."
"Working with my students has taught me to have a lot of patience. I've learned that patience is very important." 
Dinah hasn't given much thought into whether she wants to become a teacher in the future, but she knows one thing for sure. "I want to keep working with children. For now, I definitely want to keep working at our local school."
Before ending our conversation with Dinah, she shared some positive words about her experience working with Teach For Canada. "You guys–and the resources that you provide–are amazing. Teach For Canada's TA Program has been really great to be a part of."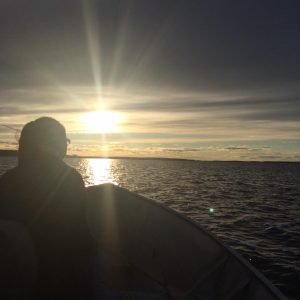 If you are a community partner TA interested in getting involved in Teach For Canada's TA Program, please contact selection@teachforcanada.ca.