Apply
Teach For Canada recruits teachers for full-time classroom positions in a First Nation in Northern Ontario, Manitoba, Saskatchewan and Alberta. Applications are now closed for the 2023-2024 school year. Applications will open in Fall 2023 for the 2024-2025 school year.
Interested in applying to teach in the North? We encourage you to submit your application if you:
are certified to teach

or are certification-eligible

in a Canadian province or territory
have working status in Canada for the minimum two-year teaching commitment
are able to relocate to a northern First Nation in Ontario or Manitoba
are available to attend the Summer Enrichment Program (expenses covered by Teach For Canada)
If you fulfill these requirements, we would love to learn more about you. As an applicant, you will be asked to answer a series of questions that outline your qualifications and work history, confirm your availability for the Summer Enrichment Program, and reflect upon your motivation to teach in a northern First Nation. You will also be asked to upload your resume.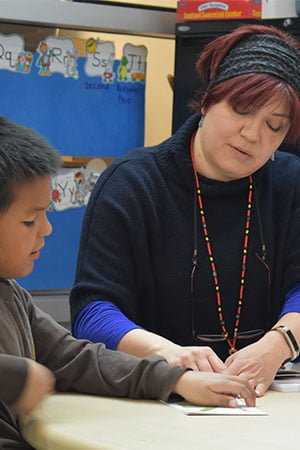 "If every teacher had the opportunity to come and experience teaching in the North they should. Because you learn a lot about the way children learn, you learn about yourself the kind of teacher that you are, and you learn how to be flexible how to appreciate what's around you."
– Angela Fiorletta, Reading Intervention Teacher, North Spirit Lake First Nation