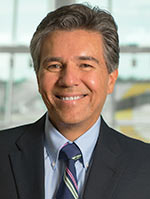 BOARD OF DIRECTORS
Mark S. Dockstator
Director of the Chief Maracle Indigenous Knowledge Initiative at Queen's University
Dr. Mark S. Dockstator, a member of the Oneida Nation of the Thames is currently teaching at Trent University, Chanie Wenjack School for Indigenous Studies and is the Director of the Chief R. Donald Maracle Indigenous Knowledge Initiative at Queens University, in addition to being Past President of the First Nations University of Canada, one of the first Indigenous-controlled post-secondary institutions in Canada.
In 1994, he became the first First Nations person to graduate with a doctorate in law, receiving his degree from Osgoode Hall Law School, York University. His doctoral dissertation, entitled "Toward an Understanding of Aboriginal Self Government," is a blend of Indigenous and Western knowledge and was used as a foundation for the Royal Commission on Aboriginal Peoples' final report.
During his career Mark has developed a specific expertise in Indigenous issues, and has served as Principal Investigator on an array of national and regional research projects in Indigenous health, treaties, Indigenous languages and culture, education, and economic development.
Additionally, Dr. Dockstator has served as founding Chair of the First Nations Statistical Institute, Senior Negotiator and Researcher for the Assembly of Manitoba Chiefs, President and CEO of Rama Economic Development Corporation, Special Advisor to the Royal Commission on Aboriginal People and Special Advisor to the Chief Commissioner of the Indian Land Claims Commission.