Rob Mitchell is Principal and Education Director at Zhingwaako Zaaga'Igan Private School in Lac La Croix First Nation. Rob started as a Teach For Canada teacher in Lac La Croix First Nation in 2018, before transitioning into the role of principal in 2020.
Rob has completed and surpassed his two-year teaching commitment, making him a Teach For Canada alumnus. This summer, Rob participated in Teach For Canada's Administration Preparation Program, and continues to be part of the Administration Development Support Program, providing educators in leadership roles with personalized professional support from an experienced practitioner.
Grand Council Treaty #3 organizes an annual Anishinaabe Winter Games to bring students in different First Nations across Treaty 3 territory together to engage in friendly competition through winter sport.
Because of the COVID-19 pandemic, in-person games have been on hold since 2020. But this year, 11 First Nation schools, with a total of 300 students ranging from junior kindergarten to high school, coordinated to participate in the 2021-2022 Anishinaabe Winter Games from their home communities.
Teach For Canada teacher Katherine Golden, who accepted a position teaching math and science at Zhingwaako Zaaga'Igan Private School in 2021, had fun getting involved in this year's Games. She helped out with setting up the events and supporting kids when they needed a break to warm up, and she ended up earning the role of "main snowshoe fastener".
"The teachers had a lot of fun helping out with the event. We helped lead the kids in the activities, and cheered everyone on."
"It was a great day of fun in the snow, and the students had an awesome time. I think that they enjoyed being outside much more than they expected."
We asked principal Rob Mitchell how the students at Zhingwaako Zaaga'Igan Private School enjoyed their Winter Games, which took place on Wednesday, March 9th. He had lots of positive things to say about the momentous occasion.
"When it comes to competition people can get into it, but the Anishinaabe Winter Games was an opportunity to have fun."
"Even though we couldn't be together this year, Grand Council Treaty #3 delivered black and gold toques to every participating school. It's great because, in the photos of kids from other First Nations, all of the participants will be wearing the same hat. It's like a thread that connects us all together for the games."
Because the games were remote, the participating schools could not necessarily achieve continuity in terms of the exact events that were offered, but they did their best. The principals from schools in the 11 participating First Nations communicated via email to share ideas and organize the games that would be hosted.
At Lac La Croix First Nation, kids were split into cohorts based on their grades, before being separated into teams. The three cohorts included kindergartners through grade 2, grades 3-4, and 6-12.
"When we first split up into cohorts, each team worked together to design their own nation flag, and came up with a cheer or anthem for their group. During the opening ceremony, we got to hear the cheers and see what designs everyone had come up with."
The events that Zhingwaako Zaaga'Igan Private School offered in their Anishinaabe Winter Games included:
Tug of war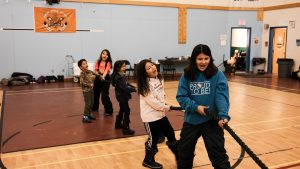 Obstacle course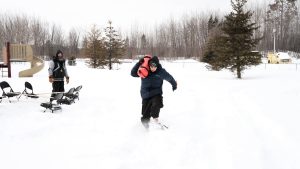 Broomball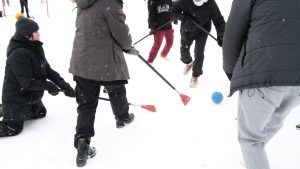 Outdoor archery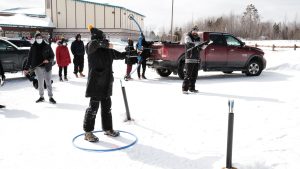 Snow sculpture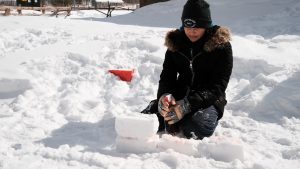 When asked what the best part of the day was, Rob said that it was having his school come together, and seeing the kids smile. "At one point, the younger children grabbed a bunch of sleds and had fun tobogganing down the hill together."
The event welcomed people from around the community, with parents being encouraged to stop by and enjoy the competition. Rob reached out to local community members on Facebook to remind them of the games and stir up excitement. 
"The kids were doing their best to run through the obstacle course wearing snowshoes. As you can imagine, it gave us a good laugh."
To show their support, Teach For Canada's Community Engagement team shipped out some hot chocolate for participants to enjoy during their day of outdoor fun. 
This isn't the only winter activity that students in Lac La Croix First Nation have to look forward to. Shortly after the games, they planned a big ice fishing day with their students before the school closed for March Break.
"Our ice fishing day will be a school event. We're going to have local fishermen drill about 30 holes in the ice, and we'll go out between 10 AM-2:30 PM to catch some fish, have a few laughs, and enjoy some hot chocolate."
The recent school years have challenged teachers and students in many ways. It's moments like these that showcase fresh air, community, and friendly competition, that remind us of how lucky we are to have each other.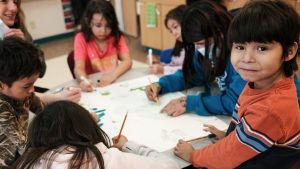 All Winter Games photos are courtesy of Aaron Joo