Teach For Canada's Summer Enrichment Program brings teachers together with Indigenous leaders, northern teachers, and education experts to prepare them to support student success in northern First Nations in Ontario and Manitoba. Since 2020, the Summer Enrichment Program has been fully digitized as a result of the COVID-19  pandemic. 
The 2021 program featured a presentation by Dr. Angelina Weenie and Ida Swan of the First Nations University of Canada.
Dr. Angelina Weenie is an Associate Professor of Indigenous Education at the First Nations University of Canada, Regina Campus. Her research interests include First Nations pedagogy and language and literacy development, among other areas. Dr. Weenie, a Cree y speaker, hails from Sweetgrass First Nation.
Ida Swan. M.Ed, is an Associate Professor of Indigenous Education at the First Nations University of Canada, Saskatoon Campus. Her research interests include Cree Language Stories and Legends – Oral Tradition, and Indigenous Epistemologies and Pedagogy. Ida Swan is a Cree th dialect speaker from Peter Ballantyne Cree Nation.
Angelina and Ida joined the 2021 Teach For Canada cohort to lead a presentation on miýikosowin: Finding our Giftedness. This two-hour workshop led participants to understand the significance of their own giftedness. "Only once we understand that," said Ida Swan, "Can we help our students to understand and build on their own."
The presenters shared some ways to identify the positive attributes, languages and gifts that each student brings to the classroom. Read on for some strategies that Ida and Angelina offered Teach For Canada educators to encourage the use of these gifts in their lessons.
Storytelling
Storytelling is one First Nations strategy that is proven to motivate, improve students' self-esteem, and build relationships. Ida and Angelina shared the importance of incorporating storytelling in the classroom wherever possible.
The power of storytelling relates well to Indigenous perspectives and helps reconnect Indigenous people to their histories and cultures. 
"It is in our traditional stories and beliefs that we find ways to reconnect and to reclaim who we are. It is within self that we come to know and understand. It is the inward journey that begins the process of how we work forward."

– Angelina Weenie.
Emphasizing the Four Aspects of the Child
Ida and Angelina referenced the Medicine Wheel Teachings and shared four aspects of the child that should be considered in all teachings: mental, emotional, physical and spiritual.
"The child should always be considered as a full person, and the approach should consider how to help the child in every way."

– Ida Swan.
They explained that the spiritual domain develops when we see children wanting or being motivated to learn. For this reason, educators must ensure that both the physical and spiritual parts of the child are properly cared for in the classroom.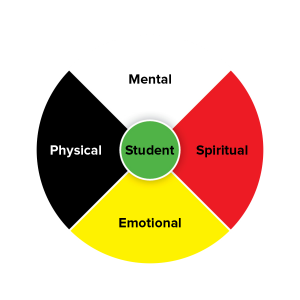 The spiritual domain is related to being good as a human. Along with the seven disciplines, or Grandfather teachings, these values guide how we conduct ourselves and are necessary to draw from in every aspect of life.
The Importance of Language and Culture
Angelina and Ida demonstrated some ways that integrating traditional languages within storytelling can provide a path to miýikosowin. If unfamiliar with the language, teachers are encouraged to prioritize the inclusion of Elders in lessons so meaningful knowledge can be passed onto students in their mother tongue.
"Knowledge is enshrined in your language."

– Musqua.
The telling of ancestral stories, myths and legends is a significant way to pass cultural wisdom and knowledge onto First Nations children. Healing stories point the way toward a higher power and the wisdom that exists.
Storytelling allows ancient and hidden wisdom to become more accessible to us. Angelina Weenie insists that creating space for Indigenous perspectives is key for Indigenizing and decolonizing our classrooms.
"I have been told that every time I speak my language, I am decolonizing my mind."

– Angelina Weenie.
In Closing
The session concluded with an exercise connecting teachers to their own giftedness. Angelina and Ida shared some final kind words and advice as the cohort continued their journey.
"It's very exciting to go and teach in the North. It's always a good experience. I love to go North; I've taught in Nunavut and spent time in Norway House. I hope the experience is good for you." – Angelina Weenie.
"There are a couple of things you have to remember about teaching in the North. First of all: you have to dress for the cold weather, but there are many more things to look forward to. The children will be very excited to see you.
Teaching is an exciting time, and teaching in the North is a great opportunity. I'm glad that you have taken this step. I commend you for taking this step, to be able to give yourself up to go North and teach children, and be willing to share your experiences with them." – Ida Swan.
Interested in learning more about Teach For Canada's Summer Enrichment Program? Click here.