Frances Youck is a grade 6 and 8 teacher who lives and works in Eabametoong First Nation. Eabametoong is located 300 km northeast of Thunder Bay, Ontario. Frances joined Teach For Canada's 2019 cohort and accepted a teaching position at John C. Yesno Education Centre. Read on to hear how Frances's work and approach have adapted during COVID-19.
I am fortunate to be living in Eabametoong First Nation for many reasons, but I am especially proud of how well our Band Council has handled COVID protocols since the pandemic began. Their dedication and proactive approach have kept our case numbers low and allowed in-person learning to continue at the John C. Yesno Education Centre.
In fall of 2020, our team worked together to prepare a safe learning environment at the school. Classes began meeting three days each week towards the end of October. Unfortunately, it wasn't long before our school experienced a temporary closure following a breach of quarantine. 
For the remainder of the term, teachers were permitted to invite a maximum of three students to the school for hour-long tutoring sessions. We began preparing and distributing homework packages after an extended Christmas break, continued the tutoring sessions, and finally opened the school for classes in mid-February.  
Our school administration sought staff input on schedule adaptations from the very beginning. The decision was made to divide students into 10-person cohorts for half days. I was assigned to teach eight grade 6 students in the morning and six grade 8 students in the afternoon.
My teaching experience throughout COVID-19 has consisted of preparing worksheets for homework packages and facilitating intermittent in-person teaching. I have kept in regular contact with students' parents and guardians through letters, phone calls, text messages, and sometimes a socially distanced knock on the door.
I've had to innovate the ways in which I connect with my students during lockdown. In some cases, I've had the opportunity to listen to them read their homework passages to me over the phone.
One challenge of homework packages is preparing exercises that students can complete on their own.  It's my understanding that some students find it challenging to muster the motivation, and at times find the physical space to successfully complete their work from home. The first thing I did after receiving my class list was find out the reading levels of each student. This way, I could create lessons suiting different abilities. 
On days when in-person teaching is permitted, I keep a range of materials and lessons on hand, so I am ready for whomever shows up. I think routines are helpful during the uncertainty of the pandemic, so I always begin my lessons with an inspiring word of the day. Students then work independently on literacy and numeracy worksheets with some encouragement and coaching. 
Half-way through the 2 ½ hour session, we have a 30-minute Native Language lesson taught by a local Elder. If more than one student shows up, I like to wrap up this session with a tactile lesson. My favourite way to end our day is by reading from "Tales of Nanabozhoo", as told by my local Teacher Escort. Students are encouraged to sculpt or draw as they listen.   
One triumph that has come out of this year is the actualization of an After School Program. The program commenced with skating before switching to our mainstay—art.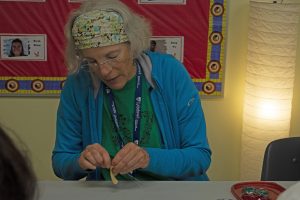 Last week, some out-of-town guests led modified versions of active games. I am thrilled  that we can now offer this program in our school and community. So far, it has been very well received— the children and adults who attend always have a blast.
In the face of COVID-19, Eabametoong First Nation has demonstrated a strong sense of togetherness. From the beginning, my school and community have come together to solve problems, uplift one another, and keep each other safe. I am proud to call Eabametoong; home.
Interested in learning more about teaching in the North during COVID-19? Read our FAQ.