The National Day for Truth and Reconciliation is an Indigenous-led, grassroots commemorative day that takes place on September 30th across Canada. It was founded by Phyllis Webstad, who is Northern Secwpemc (Shuswap) from the Stswecem'c Xgat'tem First Nation (Canoe Creek Indian Band) and stands as a day of recognition for the thousands of lives lost or affected by the Residential School system. The day, also known as Orange Shirt Day, represents a tangible and meaningful opportunity to support Survivors and their families, who are reeling from the horrific actions of the past.
In wake of this year's National Day for Truth and Reconciliation, Ken Sanderson, Executive Director at Teach For Canada, shares a reminder of the importance of continuing the work of reconciliation each day.
Here we stand, in year three of a long and impactful pandemic. A pandemic that not only changed aspects of our lives and society that we took for granted, but also opened our eyes to glaring inequities. So, where are we now, and what is the current state of education? For many students, access to education is determined by realities that are out of their control—including their postal codes.
We knew that there were challenges in Canada before COVID-19. We were aware that the education systems were fraught with increased demand and decreased support and resources, and that the educational experiences of children in southern schools greatly outstripped the experience and outcomes of students in First Nations.
All of this we knew, as it was outlined in the Truth and Reconciliation Commission's 94 Calls to Action.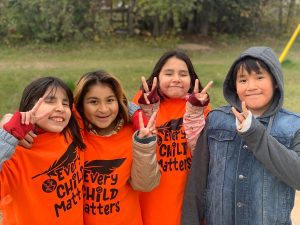 Reflecting on the National Truth and Reconciliation Commission's 94 Calls to Action
The following calls to action, numbers 6-12, are directly related to education:
6. We call upon the Government of Canada to repeal Section 43 of the Criminal Code of Canada.
7. We call upon the federal government to develop with Aboriginal groups a joint strategy to eliminate educational and employment gaps between Aboriginal and non-Aboriginal Canadians.
8. We call upon the federal government to eliminate the discrepancy in federal education funding for First Nations children being educated on reserves and those First Nations children being educated off reserves.
9. We call upon the federal government to prepare and publish annual reports comparing funding for the education of First Nations children on and off reserves, as well as educational and income attainments of Aboriginal peoples in Canada compared with non Aboriginal people.
10. We call on the federal government to draft new Aboriginal education legislation with the full participation and informed consent of Aboriginal peoples.
11. We call upon the federal government to provide adequate funding to end the backlog of First Nations students seeking a post-secondary education.
12. We call upon the federal, provincial, territorial, and Aboriginal governments to develop culturally appropriate early childhood education programs for Aboriginal families.
There have been countless commissions and studies that detail many of these issues in education. It is not only the studies that require our attention—what is most needed is action.
On #NDTR, we're taking time to review the Truth and Reconciliation Commission's 94 Calls to Action. Seven are related to education (6-12), and four are centered around education for reconciliation (62, 63, 65, 66). #EveryChildMatters https://t.co/mE3t8yDo7S. pic.twitter.com/xMpbDUhIiZ

— Teach For Canada (@TeachForCanada) September 29, 2022
Reconciliation amid the Nationwide Teacher Shortage
When COVID began, it became clear that First Nation schools had limited resources and could not pivot as easily as southern schools. Teachers  across the country faced high levels of stress, turnover, early retirement, and burnout. The need to support educators became increasingly evident across the profession.
On top of this, we are experiencing a nationwide shortage of certified educators in every province. It has become more difficult than ever for First Nation schools to fill roles. Schools with limited budgets and remote locations inevitably experience more barriers. Between the transition that comes with a big move, and the standard pressures of teaching in a new school, finding a teacher with the right motivation and fit is a highly specialized, and challenging task.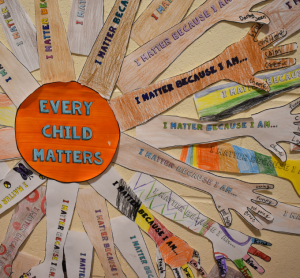 Pushing forward towards Reconciliation
The work that we do at Teach For Canada is crucial to the First Nations that we have partnered with. Our focus on recruiting certified teachers, before supporting them with resources, training, and mental health support throughout their tenure in the North, has helped prevent schools from experiencing high degrees of turnover. This work has become increasingly meaningful as we seek to rebuild a world impacted by the pandemic.
Reconciliation was an important subject pre-pandemic, but now, it is unconscionable for it to be overlooked.
With the National Day for Truth and Reconciliation not far behind us, many wonder how they can tangibly and meaningfully contribute to this work. I feel that investing in educational support and outcomes is one of the most effective ways to yield far-reaching impacts, as it helps to equip the next generation of Indigenous learners.
First Nations have been last on the list for many things for far too long. The programming and support that we provide at Teach For Canada is community-driven, and responsive to the changing needs of the communities that we serve.
By supporting our work, you are actively supporting the future of Indigenous thinkers and leaders, and truly investing in reconciliation. Thank you—chi miigwetch—for your continued support as we push forward in the movement to make education more equal.