Alisha Hill is a Teach For Canada alumnus and principal at Waninitawingaang Memorial School in Lac Seul First Nation. She joined Teach For Canada's 2015 cohort and accepted a position teaching kindergarten in Kejick Bay. 
Alisha transitioned into the role of principal in 2017 and is being supported by Teach For Canada's Administrative Preparation Program (APP), a new initiative offering northern principals wraparound personal, professional, and peer support, including monthly check-ins, bi-annual coaching, and resource support from an experienced practitioner.
We connected with Alisha to hear more about her efforts to organize unique and engaging virtual activities for her school and staff throughout COVID-19.

Due to pandemic restrictions, the staff at Waninitawingaang Memorial School have been unable to travel or take part in many activities together. To help boost morale, I organized the following virtual events for my team:

Holiday wreath-making
We purchased wreath-making kits from a local supplier and met virtually to chat and create together.

Game night
This activity engaged folks with games of chess, asking questions to a magic 8-ball, singing karaoke, and even taking on virtual escape rooms!
Cake decorating
After providing each member of our team with cake, fondant, and buttercream, we took part in an online workshop led by a local cake decorator.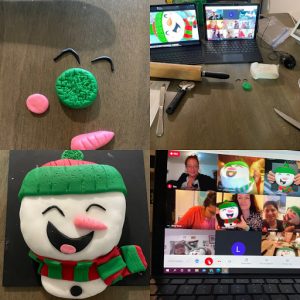 Fishing derby
We organized a fishing derby using an app! Participants went fishing and logged their catches to win prizes.
Informal virtual coffee chats
We did our best to maintain connection with each other while working online. This included lots of birthday songs and philosophical conversations at 8:30 AM.
Our admin team also organized paint nights, scavenger hunts and some great virtual professional development opportunities.
In addition to virtual sessions, we've also found ways to connect as a team in-person. I've cooked and served many staff lunches, wheeled a 'room service' snack cart around to classrooms, and have hosted school-wide theme days. When COVID restrictions have allowed, we've held a few bonfires with peanut butter s'mores.
What did this year look like for your students?
Adaptations were made to our programming in an effort to involve community members and staff who were unable to meet in-person with students. 
We've organized virtual drumming sessions and have had one of our mental health counselors virtually demonstrate large-scale chainsaw carving, so students could watch and participate in real time. We've also had a parent who is well-versed in trapping show the students their animals and skins during Native Language class. 
The students have had a wonderful year taking part in small group or class-only activities. One highlight was participating in Global Play Day. This event had students and staff engaged playing educational games all day, and featured an intense teacher-student chess match. 
Throughout the year, classes were able to go camping, ice fishing, hunting, and make birch syrup.
What steps have you and your community taken to support Lac Seul?
My goal for the year was to keep everyone safe and happy. This meant staying strict about public health guidelines, preparing delicious team lunches at school whenever possible, and making sure that I checked in with staff and students as often as I could.
It was also important for me to work with the Lac Seul Pandemic Planning Committee to get as many staff vaccinated as possible. I was able to organize a session with a professor and epidemiologist from Johns Hopkins University for staff who had questions leading up to their dose.
In March 2020, all administrators, teachers and staff were invited to start planning for a smooth school start in late August, so we were exceptionally prepared for whatever came our way this school year. 
In an attempt to connect with families, our entire board facilitated report card nights. Along with the report cards, food was delivered to each family at their homes. We received 100% attendance! 
We were fortunate to have a community member organize a community-wide food delivery service. Students participated by making apple rings and fried rice with their families. 
What challenges have you experienced as a principal this year?
Not being able to connect with students everyday has been difficult for me. I am normally in classrooms regularly and like to meet with students one-on-one. With strict COVID protocols, my classroom visits became far less frequent. 
It hasn't always been easy to engage students in online learning. We've transitioned online for a few short periods of time during the school year, and these times have brought challenges in getting our students to connect and attend classes.  
Despite the challenges of COVID-19, please share something positive that has happened to you this year.
This year has been an interesting one for sure. I have done a lot of personal and professional growth. I am working on my Masters of Education in Digital Technology and Leadership. I have also done lots of Marie Kondo-ing of my personal space, and am learning to prioritize self-care and work-life balance. Taking our new boat out on Lac Seul helps with that!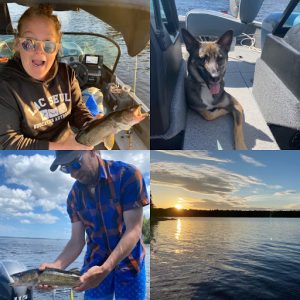 It was a year like no other in Lac Seul, but I am proud of all we have achieved. As a team, we have worked together and connected with each other in fun and innovative ways. I am hopeful that next year will bring brighter days, and more memories made with my students. 
Interested in learning more about teaching in the North during COVID-19? Read our FAQ.